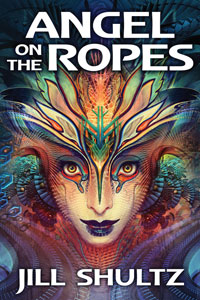 Talking About Angel on the Ropes
"Evocative... graceful writing... an enchanting mix of science fiction, philosophy and romance, which revels in its characters the way Amandine revels in flying."

—Aurealis magazine (Australia)
"A complex, richly imagined world populated with engaging characters.The circus motif is magical!"
—Lynn Flewelling, author of the Nightrunner Series and Tamír Triad
"Amandine's love story is addictive... it's an exciting and deep book."

—Living in Our Own Story (Spain)
"A riveting story that has everything one could want from a novel: a complex, beautifully realized world, a society caught between choices, and a protagonist who has to balance head and heart—and soul. It's a compelling read, and one that will stay with you."
—Melissa Scott, award-winning author of 32 SF and fantasy novels
"Had me hooked from the first page..."

—A Mother's Musings About Books (Cardiff, UK)
"Thrilling and stunningly imaginative, Angel on the Ropes snared me into an alternate world I completely believed in. Jill Shultz tells a wondrous tale!"
—Tess Gerritsen, internationally bestselling author of Last to Die
"A fascinating journey into the far-future, but one that is immediately recognizable... a novel that soars."
—Kristen Britain, New York Times-bestselling author of the Green Rider series
"It's so exciting it almost made my palms sweat."
—Peter Gold, trapezist, formerly with Ringling Bros. Barnum & Bailey Circus
"It's a fabulous book, with awesome, relatable characters, a fresh, unique take on problems we face today, and a world in which it was easy to lose myself.
"A few days after reading Angel on the Ropes, I was washing dishes while listening to Florence + the Machine. When 'Between Two Lungs' started to play, it reminded me so strongly of Amandine and Nikos (especially of Amandine's idea of breathing as inspiration) that I was instantly transported back to the book. I think that any book that can stick with me so closely is a good thing…"
—Rachel Cameron

[Author's note: I agree! "Between Two Lungs" captures their relationship so perfectly it should be their song. Hope you enjoy this live recording from the 2010 Oxegen Festival in Ireland.]


Between Two Lungs (Live at Oxegen Festival, 2010)
Music video by Florence + The Machine performing Between Two Lungs.
Copyright 2010 Universal Island Records Ltd. A Universal Music Company.