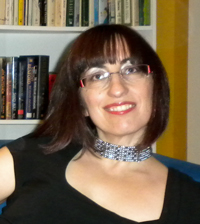 Workshops
Panel discussions
Bio
Awards
Presentations
Jill Shultz, an award-winning SF/F novelist and science writer, has presented at SF/F cons, literary festivals, and scientific conferences. She's also taught a continuing education class in novel critique for a community college.
Workshops
Panel Discussions
2015 Boskone:
The Continuing Adventures of the QUILTBAG
Women in Science and Technology
Writing Workshops: What's Right for You?
2015 Finger Lakes Literary Festival:
How to Write a Sex Scene (workshop)
2014 Boskone:
Food in Fiction
Killer Plagues
The Pleasures of Parasites
Evolving Toward the Future (on human evolution)
2014 Robercon:
Women in SF/Fantasy
World Building
2014 Finger Lakes Literary Festival:
Getting it in Print: A Discussion on Publishing
Character Development for Writers & Actors (workshop)
2013 Robercon:
Bringing Science and Technology into Fiction
World Building 101
The Changing Face of Publishing

2013 Finger Lakes Literary Festival:
Speculative Fiction Q&A
Jumpstart Your Character Development...With Science (workshop)
Available to speak on such topics as: wildlife biology and management, ecology, sustainable agriculture, conservation, human relationships with nature, zoonotic diseases, food and hedonism, writing, self-publishing, and hybrid publishing in a serious or playful manner.
Bio
Jill Shultz is an award-winning SF/F novelist and science writer. Her debut science fiction novel, Angel on the Ropes, won the 2014 Readers' Crown Award in science fiction from RomCon, was shortlisted for Best Novel by the 2014/15 Gaylactic Spectrum Award and was honored in three categories in the 2013 Rainbow Book Awards.
For most of her career, she zigzagged between environmental and arts organizations, including The Nature Conservancy, Mass. Audubon, and Maine Writers & Publishers Alliance, where she was the director of writing programs for four years, supervising nearly 300 writing workshops. She's worked as a writer for eight nonprofits, two state wildlife agencies, and two colleges.
Through stints as a zookeeper, naturalist-teacher, and land steward, Shultz has handled elephants, owls, poisonous snakes, and disgruntled landowners.
Her nonfiction publications include a training manual for wildlife professionals that's still in use after a decade, as well as ancillary materials for college textbooks, fact sheets, radio programs, and wildlife management plans. She holds a B.S. in Biology from Cornell University and a M.S. in Environmental Sciences from Antioch.
An eco-geek through and through, she's deeply committed to conservation, sustainability, and social justice. Hobbies include gardening, hiking, watching wildlife, reading, and cooking. She's a non-snobbish foodie who loves museums and most of the arts.
Publication Awards
2014 Readers' Crown Award (winner, science fiction)
2014/15 Gaylactic Spectrum Award (shortlisted for Best Novel; a Recommended 2013 Title)
2013 Rainbow Book Awards (Best Sci fi: 3rd-place winner; tied for 4th in both Best Bisexual Book and Best B/T & LGBT Debut)

Outstanding Professionals Award, The Wildlife Society, NY chapter, 2004 (for first edition of the wildlife manual)
Innovative Outreach Award, Assoc. of Natural Resource Extension Professionals, NY chapter, 2004 (also for the wildlife manual)
Workshop Descriptions
Jumpstart Your Character Development…With Science
Many writers use a laundry-list approach to character development prompted by worksheets that ask 110 questions ranging from the profound to the mundane. If you find that tedious or worse yet, paralyzing—what if you don't care about what's in your character's glove compartment? Does that mean you're not a "real" writer?—our science-based methods may be just what you need to get to the juicy stuff faster. We'll focus on three evidence-based theories of personality. Practical tips, writing exercises, and handouts will get you started and keep you going.
2-hr. workshop co-taught with psychologist Bill Altman, Ph.D
Offered at the 2013 Finger Lakes Literary Festival
Genre Fiction Novel Critique
Through critique and writing exercises tailored to the needs of the group, we'll focus on such fiction techniques as characterization, dialogue, plot, tension, point of view, story structure, conflict, and world-building. Each student receives about a half-hour of group critique on a 30-pg. manuscript in addition to the instructor's detailed written comments.
3-week course offered through Broome Community College's Continuing Education Program, Fall 2007